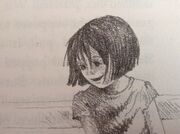 Lucy is the main character from the Holly Webb book Sky the Unwanted Kitten.
Sky the Unwanted Kitten
Edit
Lucy is sad about having to move to Fairford, because of her dad's new job. When they get there, Lucy and Kieran, her older brother, go to see their rooms, but Lucy is quite lonely in hers. When the weekend is gone, and on Thursday, Lucy is attending her new school, even though she doesn't want to, because she misses Ellie, her best friend, and all her friends at her old school. When Lucy and her mum reach Class 5W, her new teacher, Mrs Walker, smiles kindly at her and introduces her to her new classmates and tells them to make her feel welcome. Lucy meets Orla and Katie, the girls who are looking after her, but she hardly talks to them or anyone else all day, which makes the other children think she is being unfriendly, because she is just shy. At hometime, Lucy sees a red-haired girl looking sympathetically at her around the coat pegs, then Orla and the other children humiliate Lucy. Devastated, Lucy meets Mum at the school gate, blurting out that she hates her new school, because she thinks nobody likes her. She wants to go back to her old home and her old school. Mum comforts her and suggests lots of fun things to cheer her up.
The next day, at school, the red-haired girl pokes Lucy and asks her if she needs any help. The day after that, Kieran sends Lucy down to the kitchen for a surprise. Lucy opens the box and finds a gorgeous Siamese kitten in it. She is called Sky, and Mum and Dad know that Lucy has wanted a kitten for so long, and they think she is now old enough to look after a cat properly. Delighted but now disappointed, Lucy puts Sky back in the box and runs out of the kitchen. When Mum and Dad sit down on Lucy's bed next to her and ask her what's wrong, Lucy says she doesn't want a kitten anymore, even though she has begged for one for years. She starts to cry again when Dad reminds her of Nutmeg and Ginger, Mrs Jones' cats who she used to play with and pretend they were hers before her family moved. She writes a letter to Ellie all about Sky, but one of her tears smudges the ink and ruins the letter. Lucy cries until her head aches and she is desperately thirsty, so she goes to get some juice. After realising how lonely Sky is, she plays with her with ribbon.
The next morning, Lucy is ignoring Sky in front of Kieran, staring into her cereal bowl.