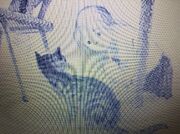 Jasmine is the main character from the Holly Webb book Alone in the Night.
Alone in the Night
Edit
Jasmine's mum is hurrying her up for school, and when they make a run for it because they are late, Jasmine sees a beautiful brown tabby kitten staring out the window in its house, thinking it is a girl, and she is right! After school, Jasmine and her best friend, Lara, walk home together, talking about Star, the new kitten.
Leaving bread crusts out for the birds, Jasmine watches them, and Star appears, curious of the girl. Jasmine sees her and laughs at her funny antics. Jasmine's parents aren't pet people, but maybe gorgeous little Star can help convince them. Jasmine always looks out for Star in the garden. One day, Mum is horrified when she sees Star on Jasmine's lap when she is doing her homework. Jasmine scolds her for frightening Star, but Mum retorts back that Star frightened her, and firmly tells Jasmine to put her outside. Jasmine doesn't want to leave Star outside, but does as she is told, feeling guilty for leaving Star out in the rain.